2018 Tiguan - The Model Name is All You'll Recognize
June 06 2017,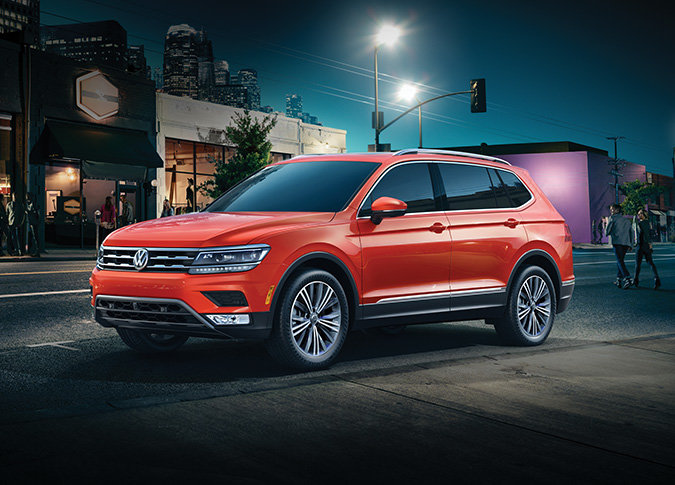 We would like to introduce the bigger, bolder, and progressive 2018 Tiguan, as the newest member of the VW lineup. With pronounced advancements in its structure, this is not the Tiguan you thought you knew. Captivating to see from a distance, this SUV is sure to impress inside just as much as out. You can expect to see the Tiguan in our store this August but you can inquire about this or any of our vehicles by contacting us in the form below.
Click/Select the above for Cantonese Tiguan Video
Click/Select the above for Mandarin Tiguan Video
Revamped Attitude
The 2018 Tiguan offers new upgrades that have trumped the opposition. Resting at 185.2" long, the refurbished edition is 10.7 inches longer than the previous one. Introducing an optional third row of seating, this has become one of our most spacious vehicles as it offers availability for up to 7 people to travel comfortably. Moreover, the 5-Seated trim offers 73.5 cubic feet of cargo space with the second row folded down, allowing it to surpass its rival Toyota RAV4 and Nissan Rogue counterparts. The all-new Tiguan has earned its spot amongst the most desired SUV's on the road this year.
M.V.P. - Most Visible Progress
With its progressive, sleek, signature Volkswagen design, the Tiguan is available with a Panoramic Sunroof, Digital Cockpit, Remote Start, and Stylish Ambient Lighting. We are readdressing the meaning of a true 'Sports Utility Vehicle' featuring a 2.0T Engine, 184 hp 8-speed automatic, 17" alloy wheels, and App-Connect availability.
Protect What's Yours
Given the unpredictable circumstances that come with driving, we understand that your vehicle needs to do more than simply take you around. The Tiguan offers protection for the whole family as select trims will be made available with Forward Collision Warning with Autonomous Emergency Braking (Front Assist), the latest in Advanced Driver Assistance Systems including; Lane Assist, Blind Spot Detection, Light Assist, Area View and Adaptive Cruise Control and 4MOTION Active Control.